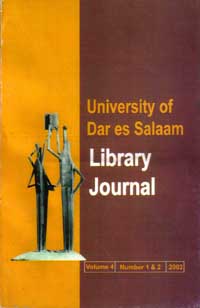 The University of Dar es Salaam Library Journal (UDSMLJ) is an interdisciplinary academic journal that publishes scholarly articles on all aspects of Library, information Science and and related fields of study. These include organization of knowledge, information dissemination , information and knowledge management, Information Technology and its application, Management in Libraries, Communication, Human Information Behavior, Records and Archives Management, Information Literacy, Information Retrieval, Reference Services and Information Systems. The journal is published twice a year in June and December. The journal is published twice per year, that is June and December.
This journal provides immediate open access to its content on the principle that making research freely available to the public supports a greater global exchange of knowledge.
Authors are in invited to submit their articles to be considered for publication. See information for authors for details.
This journal can also be accessed at the following link http://www.ajol.info/index.php/udslj/issue/archive