The AJOL site will be undergoing a major upgrade over the next couple of days.
During this period there will temporarily be some restrictions to the available functionality.
Users will not be able to register or log in during this period.
downloads of full text (PDF) subscription based journal articles will NOT be available
full text (PDF) downloads of Open Access journal articles will be available as always
We apologise for any inconvenience caused. Please check back soon, as we will revert to usual policy as soon as possible.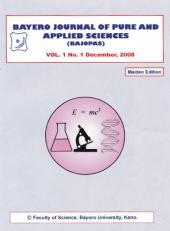 The Journal aim is to satisfy the goal of ensuring rapid and wide dissemination of results of scientific researches that could finally trigger the advancement of human kind in all its ramifications. The Journal's scope is wide in that it reported findings in the areas of pure and applied sciences, namely; Agricultural Sciences, Botany, Biochemistry, Chemistry, Computer Science, Engineering, Environmental Sciences and Geography. Also, areas of Laboratory Science, Technology, Mathematical Sciences, Microbiology, Physics, Medical Sciences and Zoology form part of the contents of the Journal. Scientists in the academia, research institutes and industries are therefore encouraged to participate actively in the propagation of their works through Bayero Journal of Pure and Applied Sciences (BAJOPAS).
Vol 11, No 2 (2018)

Open Access

Subscription or Fee Access
Table of Contents
Articles
Sonographic assessment of renal length in apparently healthy students of college of health sciences, Bayero University, Kano
EMAIL FREE FULL TEXT
DOWNLOAD FULL TEXT
Idris Fiddausi Usman, Abba Mohammed, Ugwu Anthony Chuckwuka, Baba Samaila Aliyu, Dembele Musa, Barde Mustapha, Garba Idris, Mohammed Hassan, Abubakar Umar, Ali Alhaji Modu
14-19
http://dx.doi.org/10.4314/bajopas.v11i2.3
ISSN: 2006-6996