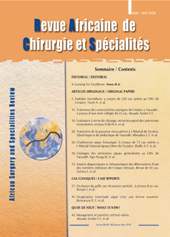 The Revue Africaine de Chirurgie et Spécialités/African Surgery and Specialities Review
has as ambition to become a sub-regional, regional and even international journal, publishing original articles, clarifications, clinical facts and technical notes related to surgery, surgical specialities and anesthesia-reanimation. It also publishes summary accounts of the congress of the Cameroon Association of Surgeons and any other African learned society dealing with surgery or surgical specialities which provide sponsorship and submit its proceedings for publication in the review.
Vol 11, No 3 (2017)

Open Access

Subscription or Fee Access
Table of Contents
Editorial
Original Paper
Embrochage centro-medullaire élastique stable dans les fractures diaphysaires du fémur chez l'enfant
EMAIL FULL TEXT
DOWNLOAD FULL TEXT
I Amadou, Y Coulibaly, O Coulibaly, Y Coulibaly, M.T. Coulibaly, A Kone, M Keita, A Omid, B Coulibaly, Y Sogoba, G Diallo
5-9
Case Report
Quoi de neuf / What is new?
ISSN: 1997-3756