The AJOL site will be undergoing a major upgrade over the next couple of days.
During this period there will temporarily be some restrictions to the available functionality.
Users will not be able to register or log in during this period.
downloads of full text (PDF) subscription based journal articles will NOT be available
full text (PDF) downloads of Open Access journal articles will be available as always
We apologise for any inconvenience caused. Please check back soon, as we will revert to usual policy as soon as possible.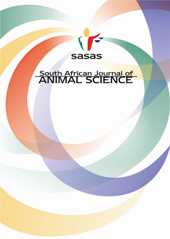 The South African Journal of Animal Science is a peer-reviewed journal for publication of original scientific research articles and reviews in the field of animal science. The journal is published both electronically and in paper format. The scope of the journal includes reports of research dealing with farm livestock species (cattle, sheep, goats, pigs, and poultry), as well as pertinent aspects of research on aquatic and wildlife species. The main disciplines covered are nutrition, genetics and physiology. Papers dealing with sociological aspects of well-defined livestock production systems are also invited, providing they are scientific by nature and have been carried out in a systematic way.
Other websites related to this journal: http://www.sasas.co.za
The journal is ISI Rated (Agriculture, Dairy and Animal Science Impact factor) with an Impact Factor of 0.678 for 2016.
Vol 49, No 5 (2019)

Open Access

Subscription or Fee Access
Table of Contents
Articles
Safflower seeds in the diet of feedlot lambs improved fat carcass, colour, and fatty acid profile of the meat
EMAIL FREE FULL TEXT
DOWNLOAD FULL TEXT
M.S. Ferreira, R.H.T.B. Goes, A.C. Martinez, J.R. Gandra, A.R.M. Fernandes, W.A. Gonçales Júnior, C.A.L. Cardoso, K.C.S. Brabes, O.R. Machado Neto
922-933
ISSN: 2221-4062