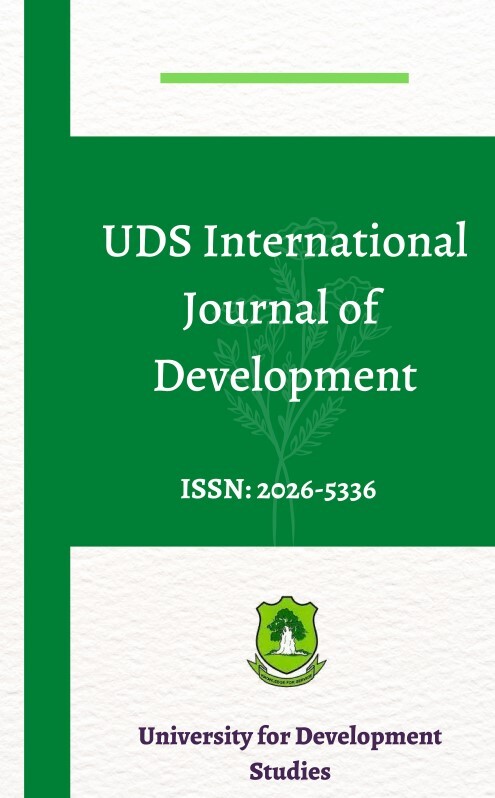 Focus and Scope
The UDS International Journal of Development is an online, open-access peer-reviewed journal of the University for Development Studies, Ghana. It is a multi-trans and inter-disciplinary journal with a development focus. It publishes works that are analytical, evaluative, basic, applicative and/or descriptive. It accepts papers from varied disciplinary areas; including the Humanities, Social Sciences, Physical and Applied Sciences, Medicine and Allied Health Sciences, Business and Commerce as well as Information Technology. Articles must show relevance to development. Emphasis is on empirical research that builds on and/or ground theory. However, manuscripts of high quality on theoretical aspects of development-related disciplines as well as book reviews are considered for publication.
The UDS International Journal of Development provides a forum for researchers and development-related professionals to re/present findings on critical research and /or analysis of development issues with an emphasis on, but not exclusive to the Ghanaian as well as African settings.
Mission
To provide on a regular and sustained basis, an excellent scholarly journal for reporting empirical research findings, policy analysis, topical issues, theoretical concerns, and reviews on development.
The review process involves sending papers to at least two experts for review. The manuscript is a confidential document. Please do not discuss this document with anybody else. Any communication with the author of the manuscript must be done through the Journal Editorial office.
The referee provides advice to the Editor-in-Chief, who makes the final decision, together with members of a well-selected panel We will normally pass on your comments (anonymously, of course) to the author.
As a practice, the author and the reviewer are not known to each other. Even if we do not accept a paper, we would like to pass on constructive comments that might help the author to improve the paper, or in preparing a fresh paper. For this reason, please give detailed comments (with references, where appropriate) that will help the Editor-in-Chief to make a decision on the paper and the authors to improve it. Send detailed comments separately and make your recommendations and any confidential comments to the Editorial Secretary by electronic means. Corrections can also be made on the actual text itself and highlighted for the benefit of the author and the editor.
Other websites associated with this journal: https://udsijd.org/index.php/udsijd/index